I have cried for days. I know silly of me, How anyone can breed and sale "Furbabies" is beyond me. (NOT JUDGING YOU Mr. Dog-Breeder I just could never let them go.)
Our beloved Tillie had a litter of puppies and we knew from the beginning we could not and should not keep them. We already have several fur babies in our home and roaming safely in our yard and, well, You see ~ we are the crazy dog people. We see a stray animal and immediately begin to pray peace and love and joy over it as well as a full belly and a warm lap to curl up on an ever safe haven to grow old in and if said dog is stray for long you can probably accurately guess where it ends up.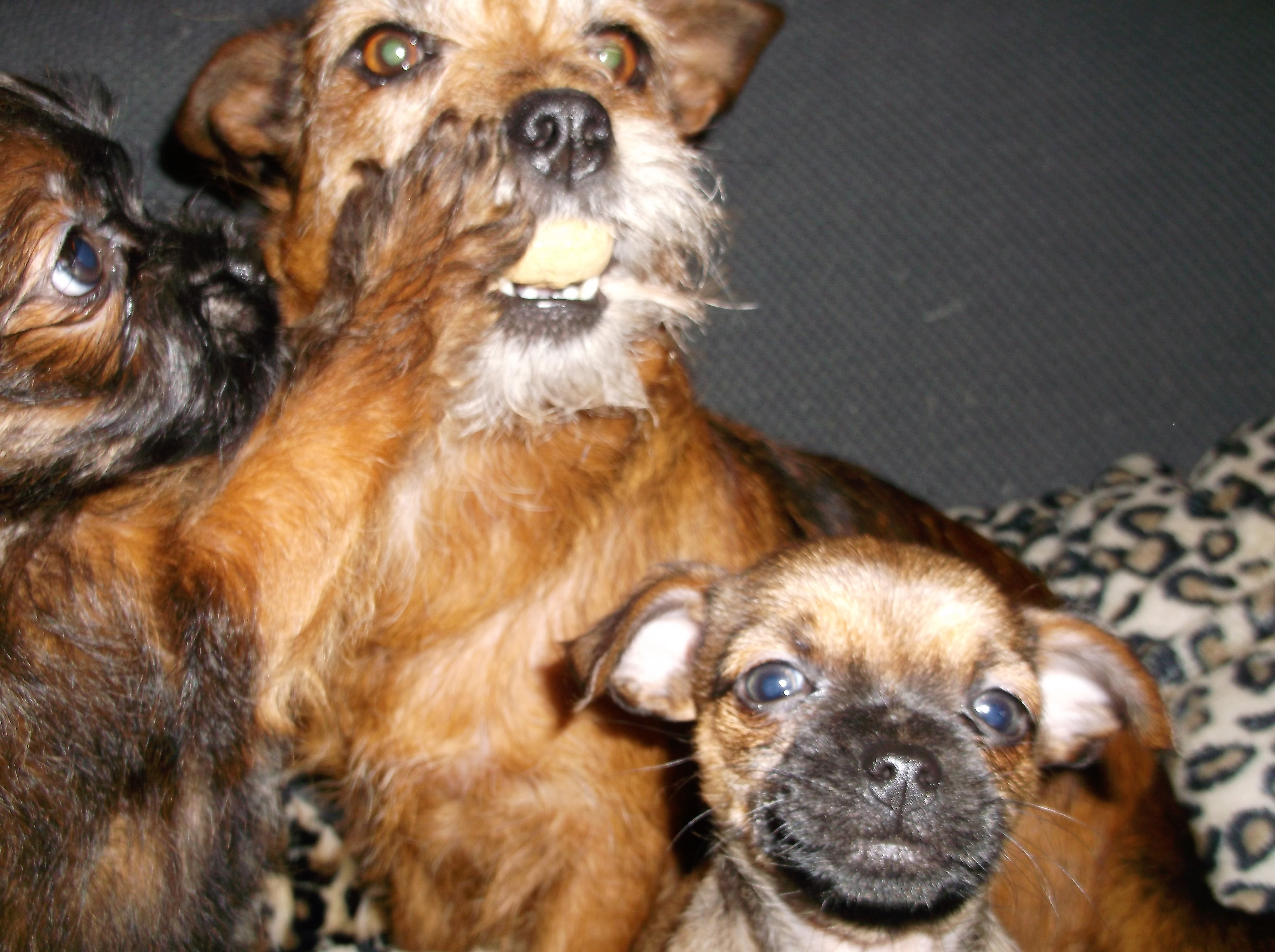 We don't mean to brag (It's not bragging if you can back it up, right?)  but our dogs are so cute that we have been asked repeatedly if we would breed them and Thankfully our answer had always been no because our brood has not been capable of parenting accept 2. Tillie and Molly.  (They both have pending appointments)
We cannot watch movies where animals are harmed (No we are not vegan, yes I know ~ Hypocrisy) We have to take a vacation week to watch Old Yeller. It  leaves us sobbing on the floor for days.
We cannot watch the commercials on TV where the doggies appear cold or shivering we will run from the room screaming like our hair is on fire because you know in those moments you can never find the remote.
I digress.
Back to Tillie. Jim was in and out of the hospital, physical therapy and wound care off and on for nearly 3 and a half years and in that time we had to cancel 4 separate appointments to have Tillie spayed. When we finally got him all together and back to work we had forgotten the very real need to have our sweet girl spayed until of course we realized she was expecting.
And then we had puppies – 6 of them. Abraham died on the second day and then their were 5. Fozzy, Phoebe, Cleo, Chloe and Mojo. WORD, Okay 2 words – Cuteness Overload.
Fozzy and Phoebe were long haired and Fluffy with Fozzy being full of life and celebrating an over the top personality. Every time he ran into the room you could almost here him yelling "TA-DA Fozzy is here" Phoebe was always Miss Manners, Politely waiting her turn in everything, a little shy and so very trusting.
Chloe and Cleo were short haired and rambunctious. We also called them the twins as they looked so much alike you sometimes had to look at their under parts to know who you had.  Chloe was smart and loud. She often voiced her displeasure with us at bedtime, Arguing over bedtime as well as letting us know when breakfast lunch and dinner should be served. She could also climb out of anything and could not wait to sneak up on you and let you know she was free from your latest attempt at corralling her. Cleo was a runner. He reminded me of the Animated Dog "Bolt"  He loved to run circles around you or the sofa. He would run forever and then begged to be picked up and fall over in your lap immediately going to sleep without any cares for his next marathon.
Mojo. My "cuddler," The smallest in the group by nearly half everyone else's size. At first so fragile clinging to life and then "BOOM" almost overnight gaining strength and volume.  He loved to jump like a bunny, pouncing on lint and wagging tales until he was all "hopped out" and then he wanted to nap in your pockets. Yes, he was that small.
I say was.
We knew to gift them to good homes was the best thing we could do for them and so we did. Our hearts are broken but to keep them would mean each would have less and less time with a human because their is only so much of us to go around and already so many furbabies to love.
So Tillie and I stayed up last night and cried. We washed all the blankets and bedding and we cleaned away all the little paw prints from the floors, doors and windows but we know that their little paw prints will be forever embedded in our hearts.
If you are so lucky as to have one of our "FurBabies" know this. We pray for your happiness daily and wish your family joy, peace, love and lots of kisses and Tillie has a Special Prayer to share with you.
A Fur Mothers Prayer.
Dear Heavenly Father, Watch over my brood
because as a Mother I have done the best that I could.
Please rain down Joy and Peace over all that they do
Giving a lifetime of love to their families too.
Fill their bellies with Nourishment never let them be hungry.
Give their families encouragement to keep them safe and free.
Please Lord Don't let them leave my babies chained to a tree.
Give them a warm bed, gentle pats on the head.
Give them a safe haven a safe place to play in.
Give them a warm lap, treats and a kind word.
Give them no worries – Just like the sparrow, your bird.
And Lord when their time with humans is through
Let them go in the sweetest, gentlest, warmest embrace.
Next to arrive to lick your glorious face.
In Jesus Name,
Love Tillie
A Fur Mother.
With Love and Thanks,
Shonta & Tillie